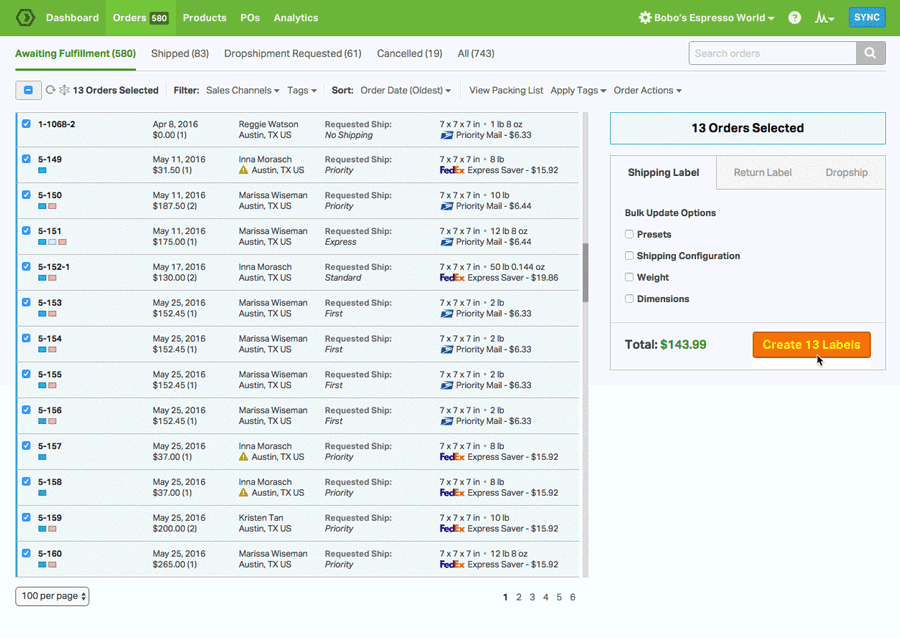 Identify The Correct Etsy Shipping Label Size With Ordoro
The All-In-One Ecommerce Logistics Platform
Equip yourself with a comprehensive solution
Inventory Management
Stock, sync, and scan.
Automatically track and sync your inventory levels
Create and send out Purchase Orders when it's time to restock
Bundle multiple SKUs into one unit for sale
Use Barcode Scanning to reduce fulfillment errors
Multi-Carrier Shipping
Your workflow, minus the work.
Enjoy heavily-discounted shipping rates via USPS
Ship via any of our integrated shipping carriers like USPS, UPS, FedEx, DHL and Canada Post
Set up your own Automation Rules and Shipping Presets
Print shipping labels in triple-digit batches or individually
Dropshipping
Truly hands-off dropshipping.
Launch a dropshipping operation in a matter of clicks
Tag any product as drop shipped and assign it to a vendor
Choose between automated or manual routing
Activate a Vendor Portal between you and your supplier
Multichannel
We're your operations hub.
Integrate and view all of your sales and supplier channels in one spot
Use our open API to hook up any third-party or custom apps
Manage every aspect of your orders
Establish Supplier Feeds for real-time, back-end communication
Barcode Generation and Scanning
Raise the bar for stocking and packing.
Create UPC barcodes for your products
Scan, set, and search UPC codes for SKUs within Ordoro
Reduce fulfillment errors with our pack and pack barcode scanning workflow
Scan received POs to automatically adjust stock levels
Don't take our word for it
Our awesome customers have shipped some really great compliments our way:
"I spent about a month thoroughly searching for the right backend fulfillment software for my eCommerce business. There were definitely some big name guys out there that I considered, but at the end of the day, I went with Ordoro and I'm so glad I did!"

Tina Yarandi
Founder/CEO of Nature's Artisan
"Ordoro continues to add immensely valuable features to an already awesome sales/warehousing/shipping platform. Using Ordoro continues to save us time and money."

Anthony Krize,
VP of GE Holiday Lighting
Etsy Shipping Label Size
How to Ship on Etsy for Beginners
Etsy is a popular ecommerce site for people looking for unique finds in original or vintage jewelry, clothing, and accessories by smaller independent creators.
It's easy to set up an Etsy account and learn how to ship on Etsy for beginners. The site walks newbies through the process. You'll need to decide which carrier to use, so, you'll see different rate options, such as with USPS or UPS, as well as whether your order can be sent via envelope (at a much lower rate) or whether it needs to be boxed (at a higher rate.)
The Etsy shipping calculator helps sellers figure out shipping costs and the best carrier method, including Fixed and Calculated. Fixed prices let the seller manually enter a listing's shipping price. Calculated shipping automatically calculates rates based on dimensions, weight, and zip code.
When comparing Etsy shipping label rates vs post office retail rates, Etsy offers up to 30% lower rates than what you'd pay at the post office for retail rates. Shipping fees (which are NOT label fees) are usually around 5% of the listed shipping costs for an item, so it helps to shop around and check rates to keep shipping costs as low as possible.
I don't want to use Etsy shipping labels, you say. No problem, as Etsy does give you some leeway there. So, "do I have to use Etsy shipping labels?" Sellers in Etsyland have been using their own labels and working directly with the Post Office for years.
What do Etsy shipping labels look like when a sale is made? Etsy-generated labels have the address, shipper bar code, and postage amount, as well as tracking information.
How does Etsy shipping work? When a sale is made, it's not marked as "shipped" until either the Etsy label is generated or you have actually shipped, if using your label and entering a tracking number, at which point Etsy notifies buyers that their order is shipped.
Etsy Shipping Labels
Etsy shipping labels are a part of using the Etsy sales platform, although there are some sellers with mixed feelings about them. It's not hard to learn how to use Etsy shipping labels if you've already shipped with sites such as eBay or Amazon.
You may ask I don't want to use Etsy shipping labels – can I use my own labels on Etsy? Etsy doesn't bind you exclusively to their labels – however, before doing so, test out the shipping calculator to compare rates between them and USPS, to rule out possible discrepancies. Remember that buying through Etsy is usually cheaper due to the platform's lower delivery service rates.
So do you have to use Etsy shipping labels? It can save time and money, at least in the beginning when you're learning the ropes, so you might want to take advantage of this service if you don't already have access to postage and label-creation software.
All sellers pay for are listing fees, offsite advertising, and payment processing fees (currently 3% +.25) – a near-bargain compared to competitor gateways PayPal or Square). More specific questions such as, do you have to pay for Etsy shipping labels and how much are shipping labels on Etsy, are probably best answered by going directly to Etsy.com and clicking "Shipping" for the latest information, as they have been updating (and changing) some of their shipping/ label procedures, creating a bit of confusion for long-time as well as returning users.
Speaking of which, have you tried Ordoro's ecommerce software yet? Our handy apps and plugins can take so much guesswork out of figuring the correct shipping rates, carriers, tracking and more. Did we also mention huge discounts of up to 67% with the USPS when you utilize Ordoro? We think that sounds better than Etsy's, and with less guesswork.
Check out Ordoro's FREE 15-Day Trial offer and see why our customers are taking their own ecommerce businesses to the next level.
Etsy Shipping Label Size
The standard Etsy shipping label size is generally 4" x 6", as that's the size preferred by USPS, and should fit most packages as well as label and other home printers. You can also use other Etsy shipping labels size to accommodate different sized packages, including 6 x 3 and 4 x 4 sizes.
When deciding between Etsy shipping labels vs USPS remember that Etsy does have a significant - currently 30% - discount, but USPS may still be more competitive depending on the time frame needed and the size/weight of the package. You can also purchase USPS labels on Etsy if you're based in the US, but only through accessing the Etsy.com website directly, not through the Etsy app.
As a leader in ecommerce software management solutions, Ordoro can help manage your inventory, sync with fulfillment tasks, shipping, and order tracking – we do it all. You can quickly create shipping labels — and branded packing lists — in triple-digit batches within a couple of clicks. As you print, streamline your workflow even more with our direct-to-printer option, a way of sending labels to your printer in seconds. No more time spent downloading PDFs and going through additional clicks!
Ordoro gets along with all major shipping carriers, allowing you to integrate and, depending on which sales platform you use, select any USPS, UPS, FedEx, DHL International, Canada Post, or Amazon Seller Fulfilled Prime account, and utilize the various domestic and international shipping methods of each provider.
Generate reports and analytics in seconds to better direct your ecommerce business.
Keep in mind that Ordoro also offers discounts of up to 67% with USPS, so now would be a great time to try us out with our 15-Day FREE Trial! See how other businesses are saving money while increasing shipping efficiency and staying on top of inventory, fulfillment, and tracking.
Print Etsy Shipping Label
Can you print Etsy shipping label with a home printer? Yes, you can as well as with a handheld or wireless printer, but it must be high enough quality to avoid being rejected by a carrier.
The usual Etsy shipping label size is the standard 4" x 6" and Etsy recommends they be printed on standard 8.5" x 11" paper or self-adhesive label sheets.
What if I don't want to use Etsy shipping labels? As we said earlier, that's generally no problem, as long as size and content requirements and the necessary information is included on them (see the Etsy site under "Shipping" for more details). If you want to learn how to print shipping labels on Etsy, here's how to print shipping labels at home once you've made a confirmed (paid-for) sale:
Sign into Etsy.com
Click on Shop Manager
Click on Settings
Click on Shipping Settings
Click on Shipping Label Options
Select Format my labels for 4x6 label printers
Ecommerce software leader Ordoro also partners with the USPS to offer discounts as high as 67% as well as handy apps and plugins to streamline shipping tasks. You can speed up your shipping process by configuring the Shipping Presets option that auto-fills shipping parameters when creating shipping labels. You can go a step further and establish Automation Rules that act on orders as soon as they arrive.
Make shipping even easier with Ordoro's shipping label apps: when an order is picked and during the fulfillment process, the shipping label generator kicks in and creates labels either in multiples or just one. You can create shipping labels as well as your branded packing lists in 3-digit batches with a couple of clicks! Ordoro also provides flexible label layouts, and logos on shipping labels, as well as allows you to create return labels and email return labels.
Etsy Shipping Label Printer
There's no need for a special Etsy shipping label printer. If you plan of sending a lot of Etsy packages, you might want to invest in a dedicated 4x6 label printer for your Etsy business. You'll want to be sure that it has the capacity to print label sizes like standard 4x6 shipping label printer such as the ones listed below.
Etsy shipping label size is officially the 4x6 format; only USPS labels can be formatted for 4x6 label printers.
Ordoro's label printer app can be used with a number of dedicated label printers, including the wireless shipping label printer (Rollo) brand. The (Rollo) Rolo label printer is a top choice for a shipping label printer wireless and is easy to set up.
The best printer for Etsy shipping labels that Etsy recommends include DYMO LabelWriter 4XL or Zebra GC 420D, as the best shipping label printer for Etsy.
The best label printer for small business in general that can handle multiple label sizes and store dozens of addresses, such as the Brother P-Touch Cube Plus PT-P710BT.
If you just need a cheap shipping label printer for printing a few addresses, there's no need to spend a lot of money, as you can get a reasonable device such as the handheld Brother PT-H110.
Etsy's site tells you how to set up printer to print shipping labels; remember that any label printing software can vary the type of settings needed.
Here's how to print Etsy shipping label:
Sign into Etsy.com
Click on Shop Manager
Click on Settings
Click on Shipping Settings
Click on Shipping Label Options
Select Format my labels for 4x6 label printers
With FREE 30-day onboarding, lifetime customer support, and access to an array of handy shipping apps and tools, it's time for you as a savvy entrepreneur to take advantage of Ordoro's FREE 15-Day Trial for Ordoro Express and see why our customers love us!