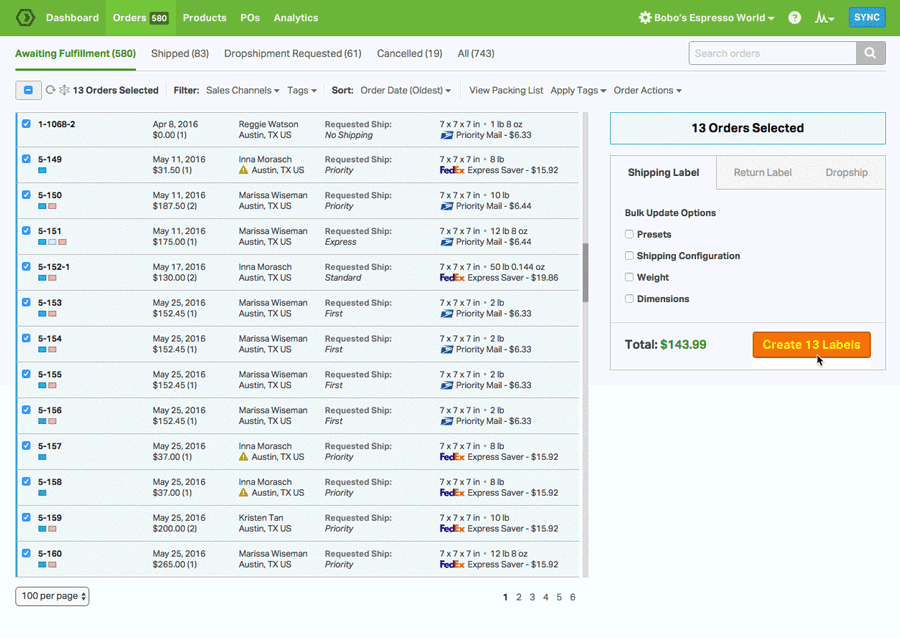 Master The Guidelines And Restrictions Of The FedEx Shipping Label Pouch
The All-In-One Ecommerce Logistics Platform
Equip yourself with a comprehensive solution
Inventory Management
Stock, sync, and scan.
Automatically track and sync your inventory levels
Create and send out Purchase Orders when it's time to restock
Bundle multiple SKUs into one unit for sale
Use Barcode Scanning to reduce fulfillment errors
Multi-Carrier Shipping
Your workflow, minus the work.
Enjoy heavily-discounted shipping rates via USPS
Ship via any of our integrated shipping carriers like USPS, UPS, FedEx, DHL and Canada Post
Set up your own Automation Rules and Shipping Presets
Print shipping labels in triple-digit batches or individually
Dropshipping
Truly hands-off dropshipping.
Launch a dropshipping operation in a matter of clicks
Tag any product as drop shipped and assign it to a vendor
Choose between automated or manual routing
Activate a Vendor Portal between you and your supplier
Multichannel
We're your operations hub.
Integrate and view all of your sales and supplier channels in one spot
Use our open API to hook up any third-party or custom apps
Manage every aspect of your orders
Establish Supplier Feeds for real-time, back-end communication
Barcode Generation and Scanning
Raise the bar for stocking and packing.
Create UPC barcodes for your products
Scan, set, and search UPC codes for SKUs within Ordoro
Reduce fulfillment errors with our pack and pack barcode scanning workflow
Scan received POs to automatically adjust stock levels
Don't take our word for it
Our awesome customers have shipped some really great compliments our way:
"I spent about a month thoroughly searching for the right backend fulfillment software for my eCommerce business. There were definitely some big name guys out there that I considered, but at the end of the day, I went with Ordoro and I'm so glad I did!"

Tina Yarandi
Founder/CEO of Nature's Artisan
"Ordoro continues to add immensely valuable features to an already awesome sales/warehousing/shipping platform. Using Ordoro continues to save us time and money."

Anthony Krize,
VP of GE Holiday Lighting
FedEx Shipping Label Pouch
As an ecommerce business shipping goods to customers, you'll want to ensure you know and follow the guidelines for each shipping carrier. To follow FedEx's packaging guidelines, you might wonder whether you need a FedEx shipping label pouch. Is the FedEx shipping pouch necessary?
In general, you can simply stick a FedEx label onto a package, rather than using a pouch to hold the label. FedEx recommends not taping over the label as it can interfere with the scanning of the information. Also, you should place the labels on the largest surface of the package.
While you don't necessarily need FedEx pouches, there may be certain circumstances for using them. This applies to a FedEx envelope with a built-in pouch, so you might use one if you are sending small items or documents. If you're wondering how to use FedEx envelope with a built-in pouch, the process is simple. Insert a printed label into the built-in pouch located on the outside of the shipping envelope. Then, place your item in the interior of the shipping envelope and seal it.
You can also stick pouches on top of a larger package to hold a shipping label or document. Where can I get a FedEx shipping pouch? These are available from FedEx. There is the FedEx Small Pouch for labels, documents, and domestic airbills, which can fit on many packaging types. The FedEx Large Pouch is for international shipping. It's also possible to purchase pouches from a third-party seller to attach non-stick shipping labels to a FedEx package.
Nonetheless, FedEx also recommends that you include an extra label or another item within the package that has the shipper and recipient's address and phone number. This is a good idea as a backup in case the packaging material, including the pouch, becomes ruined.
FedEx Create Shipping Label
One of the most important things to learn about shipping with this carrier is that FedEx create shipping label process. You might have questions about whether FedEx supplies labels, how to order FedEx shipping labels and can I print a FedEx shipping label?
FedEx's website gives helpful information about how to create and print labels. You can create a FedEx Ship Manager account to take care of this feature, which is helpful for an ecommerce store that regularly sends packages. Otherwise, you're able to use a guest account for only sending a few packages here and there. You can order FedEx labels and package through your account.
Nonetheless, you can also purchase labels and print them yourself. Also, certain tips help like using roll or sheet labels that allow you to stick the labels to a package and provide a white background for the printed information.
Once you have this process in place, shipping becomes easy and streamlined. Ordoro can help your business streamline your shipping label workflow, including with FedEx and other shipping carriers. Ordoro software helps your business quickly create a FedEx shipping label online and print it. This software makes the process quick and easy by allowing you to create triple-digit batches. The process is user-friendly, so it only takes a couple of clicks and barely any time at all. Printing is made efficient as well, as you can set up a direct-to-printer system so each label is quickly printed without extra steps, PDFs, clicks or hassle.
Even better, you can automate your shipping labels with Ordoro. All you have to do is set up your Shipping Presets. This allows the software to auto-fill the correct shipping parameters, easily creating labels as needed. Another option is to configure Automation Rules, which tells the software to develop the shipping label as soon as an order is received.
FedEx Boxes
Another important aspect of FedEx shipping is using FedEx boxes. You'll need to figure out the specifications, such as the right box sizes for your products and the right type of packaging for what and where you're shipping.
The FedEx small box dimensions are 8" x 8" x 8". The FedEx small box price is $1.75, and then packing costs extra. Keep in mind that these prices could change. Also, this price is for the box alone, and shipping costs extra, which will incorporate the FedEx small box weight, or you can choose flat-rate shipping by using FedEx Express Packaging.
There is also a small FedEx box that is 11" x 11" x 11" or a thin box that is 12" x 3" x 17-1/2". Then, you have other sizes to pick from. A FedEx medium box dimensions could be 14" x 14" x 14", 16" x 16" x 16", 17" x 17" x 7", 13" x 9" x 11", 12" x 12" x 18" or 12", 20" x 20" x 12" x 9" x 6". These are in the range of around $2 to $4, depending on the size. A FedEx large box dimensions could include 20" x 20" x 20", 23" x 17" x 12", 22" x 22" x 22", 24" x 24" x 24", 28" x 28" x 28", 24" x 24" x 28" or 18" x 13" x 11-3/4". These large boxes range in price from about $7 to $15, depending on the size.
FedEx has many options, including its standard boxes and specialty boxes with FedEx box dimensions that fit specific awkward items like a golf bag or club, a bicycle, or a guitar. The carrier has tubes, mailers, custom packages, and FedEx Express box sizes, envelopes, paks, poly bags, and tubes. Further, it has reusable packages, cold shipping packaging, and freight boxes for specialty needs.
Free FedEx Supplies
Of course, saving money is a huge part of running a good business. Cutting expenses is a great way to thrive. And when you're running an ecommerce business that sends packages, saving on shipping is a huge area where savings matter. Ordoro can help businesses get discounts on shipping rates.
Also, you might be wondering about free FedEx supplies. Can you get FedEx labels free, are FedEx envelopes free, and what about boxes? FedEx Express includes free packaging, whereas you need to purchase brown packaging and specialty packages.
You can order FedEx supplies free through your FedEx account. Free FedEx supplies include shipping forms and labels, pouches, airbills, and mailers, in addition to the free FedEx Express boxes. You can also get free shipping on the supplies you order through the website, or you can pick items up at a FedEx store in person. The brown boxes to purchase are available in stores, whereas the free FedEx packaging can be shipped to you for free. You may be able to save further by using FedEx Express since you can use flat-rate shipping with it.
It's a good idea to compare packaging to fit your needs. If the free FedEx Express packaging works for your business, all the better! But keep in mind that free isn't everything if it doesn't suit your business. It could be worth paying for packaging if it fits your custom products or protects delicate items, for example. That's part of the price of offering great service. Just like how Ordoro's software offers upgraded features and benefits over using free software or a simple spreadsheet.
Regardless of whether you use free or purchased boxes or envelopes, you can likely find other ways to save. You might be able to use other free FedEx shipping supplies like labels and save on shipping costs through Ordoro.
FedEx Tracking
Beyond choosing your packaging, properly packing your items in a FedEx package, and labeling the package, another important aspect is FedEx tracking. This capability is very important in modern business, as it helps you be on top of orders and understand problems. In addition, you're able to keep customers informed on the status of their package, which modern customers have come to expect. Tracking information is something that largescale businesses provide to customers, so it has become equated to a good level of service.
Ordoro makes it easier for your business to provide tracking information to customers and to keep up with packages yourself. This software helps automate FedEx tracking writebacks for online merchants. You don't have to go through extra steps to give each customer their tracking information one by one. Instead, Ordoro automatically shares this information to the specific sales channel once you make the designated shipping label. From there, the info is passed on to the customer.
All of this works with the help of a FedEx tracking number that the carrier issues when you create a shipping label. Alternatively, you can use a transportation control number (TCN) that you receive as a seller to track an order, while your customer can check a FedEx Office order number.
And if a customer reaches out with a problem, such as a missing package, you'll be able to check the FedEx tracking info on your end to get a better understanding of the status. But when the tracking info is sent automatically to the customer, it can greatly reduce inquiries as they'll be able to see the package status themselves.
Your business can use the FedEx Ship Manager to gain shipping and tracking information. Nonetheless, you can also go through Ordoro's hub. In the Ordoro system, you're able to set up delivery confirmation messages and carry out other helpful functions.