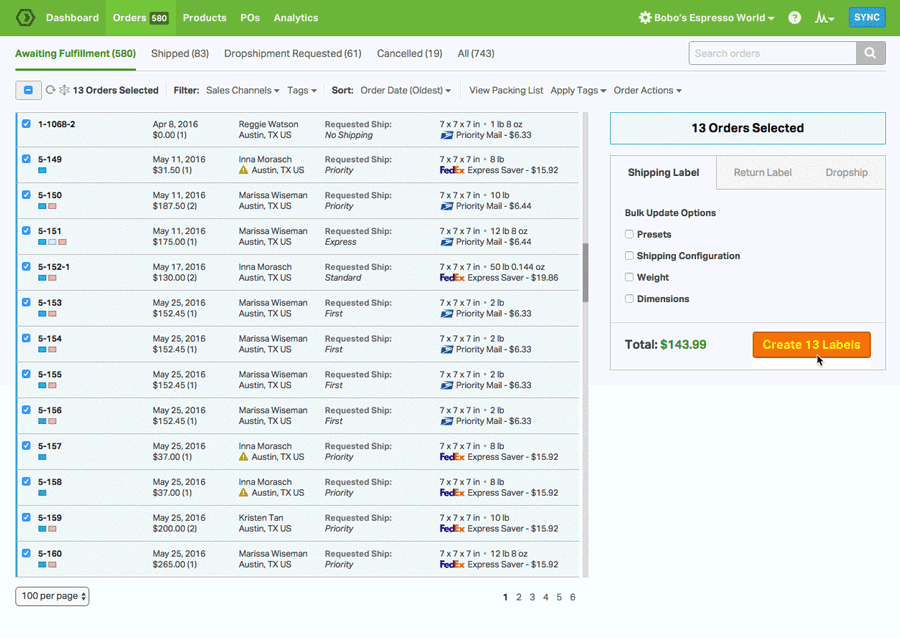 Keep Stock Levels In Sync With Our Shopify Inventory Management Software
The All-In-One Ecommerce Logistics Platform
Equip yourself with a comprehensive solution
Inventory Management
Stock, sync, and scan.
Automatically track and sync your inventory levels
Create and send out Purchase Orders when it's time to restock
Bundle multiple SKUs into one unit for sale
Use Barcode Scanning to reduce fulfillment errors
Multi-Carrier Shipping
Your workflow, minus the work.
Enjoy heavily-discounted shipping rates via USPS
Ship via any of our integrated shipping carriers like USPS, UPS, FedEx, DHL and Canada Post
Set up your own Automation Rules and Shipping Presets
Print shipping labels in triple-digit batches or individually
Dropshipping
Truly hands-off dropshipping.
Launch a dropshipping operation in a matter of clicks
Tag any product as drop shipped and assign it to a vendor
Choose between automated or manual routing
Activate a Vendor Portal between you and your supplier
Multichannel
We're your operations hub.
Integrate and view all of your sales and supplier channels in one spot
Use our open API to hook up any third-party or custom apps
Manage every aspect of your orders
Establish Supplier Feeds for real-time, back-end communication
Barcode Generation and Scanning
Raise the bar for stocking and packing.
Create UPC barcodes for your products
Scan, set, and search UPC codes for SKUs within Ordoro
Reduce fulfillment errors with our pack and pack barcode scanning workflow
Scan received POs to automatically adjust stock levels
Don't take our word for it
Our awesome customers have shipped some really great compliments our way:
"I spent about a month thoroughly searching for the right backend fulfillment software for my eCommerce business. There were definitely some big name guys out there that I considered, but at the end of the day, I went with Ordoro and I'm so glad I did!"

Tina Yarandi
Founder/CEO of Nature's Artisan
"Ordoro continues to add immensely valuable features to an already awesome sales/warehousing/shipping platform. Using Ordoro continues to save us time and money."

Anthony Krize,
VP of GE Holiday Lighting
Shopify Inventory Management
One of the best things about using an industry giant like Shopify as an ecommerce sales platform is all the help they provide new entrepreneurs. Even if you have zero experience in online sales, learning how to get inventory for Shopify is as easy as typing a question into their search engine. They've done a great job creating informative tutorials and an inventory management system that's fairly simple to use. You can perform a number of basic functions using Shopify's inventory management system even without adding an extra Shopify inventory app. For example, you can create and organize individual listings by category. There are a number of categories you can use, too, such as type or season. Categorizing items really help sellers stay organized, and it's especially useful when it's time for a sale. If you've categorized your items in advance, half the prep work for a holiday sale is already done! For each listing, the program provides an inventory field that you can adjust to include new Shopify incoming inventory. It's also possible to create multiple versions of descriptions for a single product in different sizes and colors and customize the SKU, pricing, weight, and inventory number for each of them. There's a bulk editor, too, and when you import inventory adjustments in bulk, they appear in rows and columns like a spreadsheet. You can receive transfers between multiple warehouses and suppliers, but not third-party fulfillment orders. Their history inventory tracking feature serves as a kind of built-in Shopify inventory report. It would be impossible to underestimate the value of the ability to accurately track your Shopify inventory levels. That's why they've now provided you with another new feature that allows you to view your Shopify committed inventory levels. Committed inventory consists of items that have already been paid for but haven't been sent out yet. It isn't counted as part of your available inventory. Features like that can mean the difference between satisfied customers and running out of an item at the peak of its popularity. It's the next best thing to data analytics.
Shopify Inventory Management App
If you sell more than a few items, chances are that you're eventually going to have to add a Shopify inventory management app. There is a number to choose from since each of the Shopify apps specializes in a different function. For example, the app called Inventory Source enables you to automatically upload products, sync inventory, and route orders with dropship suppliers to virtually any ecommerce enterprise. The Store Automator app gives you the ability to create flexible product listings for smart marketing strategies. It also features catalog management capabilities. Other features help sellers adapt to different marketplaces by building bundles and syncing inventory across multiple sales channels. The SKU Vault app features cloud-based data sharing that can improve accuracy and decision-making. The Inventory Planner app helps identify trends and creates reports and sends purchase orders directly to suppliers. It can also track outstanding orders, expected arrival dates, and received inventory items. Shopify is limited in terms of multichannel selling capability, though. It supports sales on Facebook, Instagram, Walmart Marketplace, eBay, and Amazon. If you want to list products on Magento, Etsy, or other popular online marketplaces, it becomes much more difficult to find apps on Shopify that make that possible. That's one reason why so many choose a fully integrated inventory management software system like Ordoro. Designed specifically for ecommerce, Ordoro offers all the features that the five most popular separate apps for Shopify do—and more. Their shipping software comes with deep industry shipping discounts of up to 67%. Their integrated data analytics capability allows you to make the smartest buying decisions possible, as well as reduce your storage costs.
Inventory Tracking Shopify
If you want your inventory managed by Shopify software, you always have that option. However, most sellers find that as their business begins to grow, they need the functions and advantages that a fully integrated system provides. While a lot of people just keep adding apps to increase their functionality, it usually doesn't take them long to discover that updates can make your favorite apps incompatible with other apps that are vital to your business. The greater the number of different apps you're using for different functions, the greater the risk. Many software companies deliberately make their apps incompatible with other apps as a competitive business strategy. That practice often results in unexpected expenses as well as frustration. When you have customers you don't want to lose and your system becomes non-functional, you're more likely to pay whatever someone is asking to avoid losing hard-earned customers. That's another benefit to having an integrated system—all the moving parts are designed to work well together as well as integrate with multiple sales platforms. That extends your reach. With Ordoro, you can add as many users to the inventory management application software as you like. Unlike a spreadsheet, their inventory app for multiple users allows your entire team to collaborate and work together simultaneously. The barcode scanning capability streamlines the entire inventory management process and adjusts your inventory with every purchase and sale in real-time. Ordoro was designed specifically for ecommerce, so it integrates just as seamlessly with Shopify as it does with other industry giants like Amazon and eBay. Just type Ordoro into the Shopify variant inventory tracker column. That's the column they provide for third-party apps that most sellers who utilize multiple sales channels eventually need. You'll be able to view your Shopify inventory quantity, along with the inventory quantities you have listed on other sales platforms, from a single integrated dashboard.
Best Shopify Inventory Management
If you're like most busy entrepreneurs, you're working hard to transform your small business into a medium-sized business so you can afford to take an occasional vacation. You probably really don't have time to research and find the best purchase order app for Shopify, much less learn to use it. The learning curve gets even steeper when you're trying to learn, and successfully integrate, multiple apps simultaneously. It's hard to do all that and still keep abreast of new sales trends, order merchandise, and fulfill customer orders. There is definitely no shortage of Shopify inventory management apps. One app lets Shopify update inventory by SKU. Another lets you view the connected inventory Shopify is managing in multiple locations. Sortly and Stocky are two popular inventory management apps. According to some reviews, compared to Sortly, Shopify POS is just as effective. In developing Stocky, Shopify may have succeeded in creating the best Shopify inventory management app to date. The app gives users access to all the connected inventory Shopify is managing. With this app, Shopify multiple locations are no problem. What may prove to be a problem is being able to integrate it with other sales platforms you may want to utilize. The beauty of Ordoro is that it integrates seamlessly with a number of platforms that apps created specifically for Shopify can't. It's also easy to find it in the Shopify app store and add it to your business deck. you will see the need to automate as many of the associated processes as possible. With Ordoro, those automated processes include drop-shipping. Ordoro has a system to help you automatically track inventory levels.
Shopify Inventory Management Review
The average Shopify inventory management review is positive. There are many excellent tutorials that provide step-by-step instructions on how to track inventory on Shopify or how to determine their Shopify value of inventory. People are grateful for any and all help they can get while they learn the ropes. Most would rather spend their time creating sales events that allow them to experience the joy of returning customers instead of searching for the best purchase order app for Shopify. Some have coding skills and can take full advantage of the Shopify inventory management API to use their own custom program. They could create and use a Shopify Stocky alternative designed specifically for their type of merchandise. However, no matter how many things you're good at, it remains true that there's only so much time in a day. Ordoro's engineers took their time developing a comprehensive integrated system so their customers could use their time for other things. Ordoro's satisfied customers often write to let their engineers and technicians know what they appreciate most. Here are a few snippets from some of those testimonials:
"…I had been searching for an inventory management program that could sync inventory between Shopify & Etsy for over a year and a half… They are super quick to respond and help you in everything for getting set up to any snags you hit along the way. Worth every penny of the monthly service fee." - Snuggly Monkey
"…Ordoro's support team walked the path alongside us and helped us learn the software, explore and implement customizations, and improve efficiency in our daily operations…They supported us throughout the rapid, skyrocketing growth [of shipping over 250K face-masks] … while we onboarded new team members in the Distribution Center." - Kitsbow
"It's great to have all these workflows — shipping, inventory management, purchasing, manufacturing — all under one roof. [Ordoro makes it] easier to keep track of what's going on in our business." - My Girlfriend's Quilt Shoppe
"I can't say it enough, moving to Ordoro not only saved us money, but it also gave me something far more valuable... my time back!" - Brute Force Training
Of all the things Ordoro customers appreciate, perhaps the most important is time, because time isn't just money, it's life itself.