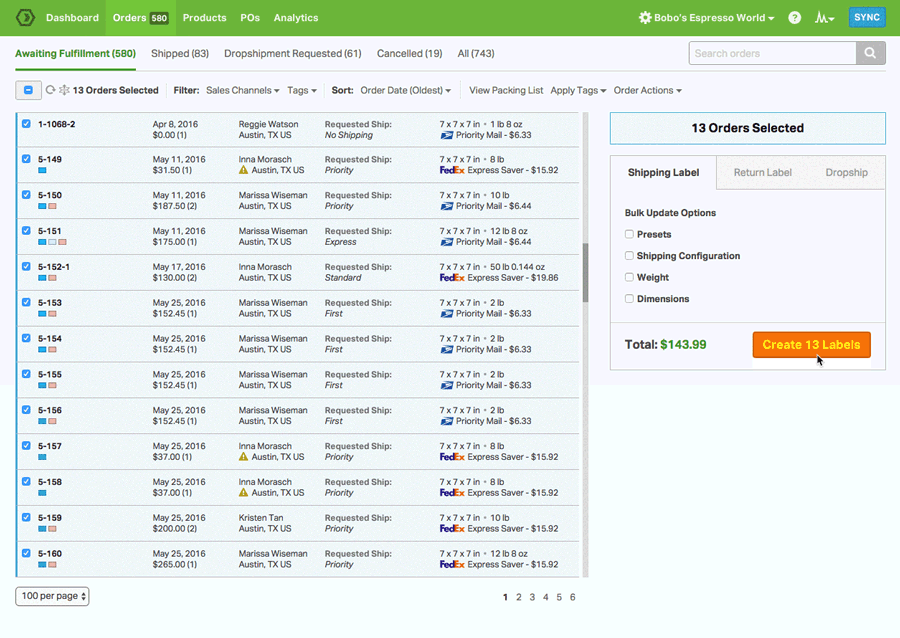 Fulfill All Your UPS Shipping Tracking Needs With Ordoro
The All-In-One Ecommerce Logistics Platform
Equip yourself with a comprehensive solution
Inventory Management
Stock, sync, and scan.
Automatically track and sync your inventory levels
Create and send out Purchase Orders when it's time to restock
Bundle multiple SKUs into one unit for sale
Use Barcode Scanning to reduce fulfillment errors
Multi-Carrier Shipping
Your workflow, minus the work.
Enjoy heavily-discounted shipping rates via USPS
Ship via any of our integrated shipping carriers like USPS, UPS, FedEx, DHL and Canada Post
Set up your own Automation Rules and Shipping Presets
Print shipping labels in triple-digit batches or individually
Dropshipping
Truly hands-off dropshipping.
Launch a dropshipping operation in a matter of clicks
Tag any product as drop shipped and assign it to a vendor
Choose between automated or manual routing
Activate a Vendor Portal between you and your supplier
Multichannel
We're your operations hub.
Integrate and view all of your sales and supplier channels in one spot
Use our open API to hook up any third-party or custom apps
Manage every aspect of your orders
Establish Supplier Feeds for real-time, back-end communication
Barcode Generation and Scanning
Raise the bar for stocking and packing.
Create UPC barcodes for your products
Scan, set, and search UPC codes for SKUs within Ordoro
Reduce fulfillment errors with our pack and pack barcode scanning workflow
Scan received POs to automatically adjust stock levels
Don't take our word for it
Our awesome customers have shipped some really great compliments our way:
"I spent about a month thoroughly searching for the right backend fulfillment software for my eCommerce business. There were definitely some big name guys out there that I considered, but at the end of the day, I went with Ordoro and I'm so glad I did!"

Tina Yarandi
Founder/CEO of Nature's Artisan
"Ordoro continues to add immensely valuable features to an already awesome sales/warehousing/shipping platform. Using Ordoro continues to save us time and money."

Anthony Krize,
VP of GE Holiday Lighting
UPS Shipping Tracking
There are many reasons why you should choose Ordoro for all of your shipping logistics tools and management. This includes the use of the UPS shipping tracking tool. When you are depending on a third-party logistics provider as big as UPS, you really do have to think about your tracking services. After all, you are putting your products into the hands of another shipping provider. Who is to say what could happen on the route to the delivery? That is why you want to have peace of mind with UPS tracking services.
The UPS Ground tracking app offers the ultimate satisfaction when dealing with UPS shipping tracking, as well as UPS customer service. Whether you have a shipment ready to deliver but running late, or an international order not yet showing up at the customer's doorstep, the UPS tracking international service will cover your tracks. Do you have a driver who is late? Let the UPS shipping tracker show you where they are in transit with your products. The UPS tracker is fully integrated within the Ordoro system of software for shipping, as well. Handle all of your shipments from all major shippers under one umbrella of tools.
See great gains in the way your products move, and in the speed at which you receive revenue as a result. Invoicing will be fulfilled more rapidly as your products reach the end consumer in a more streamlined manner. As a result, your business will grow by leaps and bounds over the course of the next year. From there, the sky's the limit thanks to the bevy of software and free shipping apps by Ordoro.
Find out exactly how Ordoro can handle your shipping dilemmas with the UPS tracking app for your shipping and logistics. Our free trial offer of the Ordoro system begins with 15 days of trying out our tools and software. Get started today with Ordoro and improve your shipping time and logistics for product fulfillment–even when shipping with UPS and other 3PL shipping providers.
USPS Tracking
The United States Postal Service (USPS) is a leading provider of Priority Mail and other fast-paced shipping services. As a result, most shippers utilize the USPS for shipping and delivery of products around the US and internationally. Whether you are a domestic brand or you have customers in Singapore, the USPS can provide services for you. The Ordoro USPS shipping map and app for tracking packages is the right choice when dealing with this third-party shipping provider.
This provides you and your customers with the information needed when tracking a shipment within the USPS network. Rather than depending on the USPS to manage shipping, you have the tools in your own hands. This reduces errors and miscommunication, as well as the rate of order fulfillment for businesses like your own. While you can utilize the Tracking tool by the USPS to manage orders, this does not always do the trick. Your business will gain control over third-party shipping with the use of the Ordoro app.
Find out when a delivery is really going to arrive, and provide this real-time data to your shipping customers using the USPS tracking software. From there, let Ordoro step in and provide you with the best free shipping app that continues to track your products in the supply chain. Find out valuable information about shipments including:
USPS tracking international
USPS tracking destination address
USPS customer service
USPS Certified Mail Tracking
USPS tracking package information
USPS tracking number
Use the USPS tracking tool for up-to-the-minute tracking number search results. See where your shipments are at any time and get started with more efficiency in your supply chain.
FedEx Tracking
Another heavy hitter when it comes to shipping both domestically and internationally is FedEx. They are a leading competitor with both the USPS and UPS. In fact, you can anticipate utilizing FedEx for some of your shipping and order fulfillment as a small business owner. This is due to the nature of the shipping industry, and FedEx simply provides more services in some areas. You can also do the same things with FedEx as you can with UPS and USPS when it comes to handling your loads. This shipping provider offers free FedEx tracking for shipments both domestically and internationally.
Other services that are quintessential to the FedEx shipping experience include:
FedEx customer care
FedEx freight tracking
FedEx international tracking
FedEx tracking by address
FedEx tracking customer service
By using FedEx as a major shipping provider, you can also easily track your products during shipping. Along with their shipping tools, Ordoro has a free shipping app that is compatible with the rest of our paid-for services. Whether you work in management or are the boss of your company, getting products into the hands of customers fast and with ease is your greatest goal.
This is the only way to grow a business, and it starts with how well you manage customer service. By letting FedEx do the heavy lifting on their end, you can start to ease up the pressures of 3PL and supply chain fulfillment. You can anticipate boosting workflow and productivity, all with the use of shipping tracking services by FedEx and Ordoro.
Track My Package
How to track your package is the biggest question we get at Ordoro when it comes to the shipping app. This tracking app works by technology that relays a barcode of data along with the package at every mile until it reaches its destination. The barcode is RFID compatible and uses a QR code that is scanned with a handheld barcode scanning device. From here, all of the information that is associated with that product and shipment is included in a database accessible when scanning the code. A package tracking number is also associated with the information on a shipping label.
This can be done by your warehouse and logistics providers and entered into the appropriate shipping tracking system. All of the Track My Package features for UPS, USPS, and FedEx, as well as Ordoro, operate using this method. As a result, third-party logistics providers along the supply chain are able to access the information they need using the cloud-based data stored within the barcoded tag. Other specific services using this system include:
Tracking number USPS
Track My International Parcel
Track My Package - Amazon
Track My Package FedEx
Tracking your package is simple with the software by Ordoro. Along with understanding where your products are in shipping and transit, you relieve any burden of managing your warehouse and inventory. This tool is easy to use based on individual shipments for residential, as well as commercial customers. As a result, the Track My Package feature is one of the most important aspects of shipping software. This feature saves you time and money, as well as headache and hassle on understanding where shipments are along the supply chain. Fulfillment is more efficient, and you finally have the data needed to report lost and stolen items to your insurer.
Tracking Number
The tracking system set up by Ordoro meets a number of expectations in the shipping and fulfillment workflow. With this tracking app, you are able to create shipping labels based on up-to-the-minute shipping status and tracking information. From here, you have the tracking numbers and sales channel information to maintain for your end customers. If they have not received a shipment in the appropriate amount of time, you know where to go to find it based on the tracking information provided by the major shipping carrier. This includes:
Tracking number DHL
Tracking number FedEx
Tracking number USPS
As your sales channel is set up to meet customer shipping demands, Ordoro has the tools needed to automatically track shipments. This starts when you create the shipping label, and includes a customer alert letting them know their order is in the fulfillment stage. The customer then receives an accurate tracking number that is readily available for viewing and tracking. This is provided via email to satisfy the expectations of your customers, and to increase the professional edge your business provides.
With an online tracking number for each of your shipments, you too gain control over knowing where and when orders will be received. Find out where and how to resend tracking write-backs in order to maximize efficiencies in sales channels. Ordoro will also allow you to track your inventory using this shipping tracker. This helps your teams keep stock levels up to par throughout the busiest of shipping seasons. Ultimately, if you want to work with the best in shipping, start with Ordoro. Along with the free shipping app on Shopify, we also offer the free shipping tracking tools your company needs to stay ahead of the competition. See more with Ordoro and our premium shipping management software and free apps and start getting the revenue you deserve.