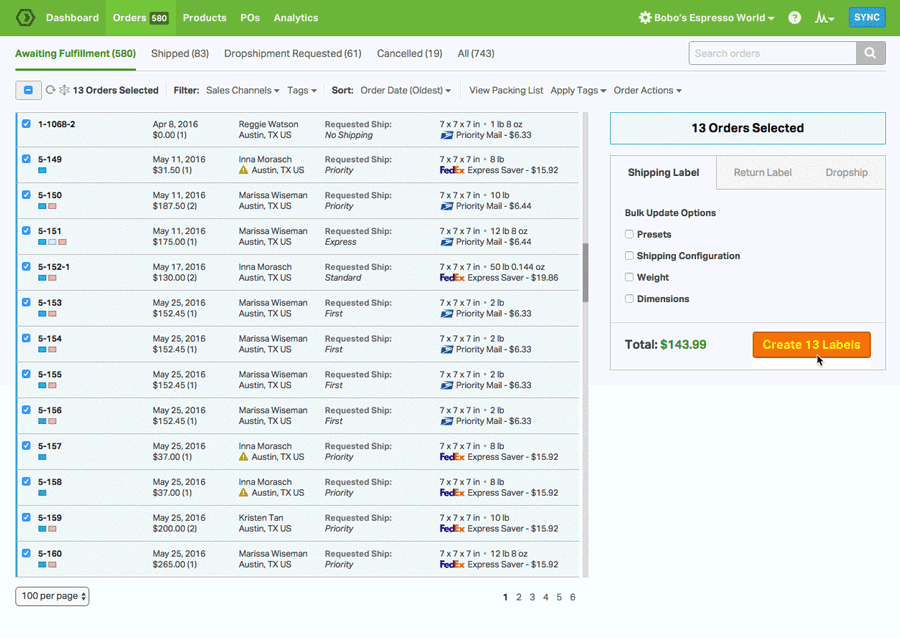 Fulfill Orders Faster With Our USPS Shipping Method Solution
The All-In-One Ecommerce Logistics Platform
Equip yourself with a comprehensive solution
Inventory Management
Stock, sync, and scan.
Automatically track and sync your inventory levels
Create and send out Purchase Orders when it's time to restock
Bundle multiple SKUs into one unit for sale
Use Barcode Scanning to reduce fulfillment errors
Multi-Carrier Shipping
Your workflow, minus the work.
Enjoy heavily-discounted shipping rates via USPS
Ship via any of our integrated shipping carriers like USPS, UPS, FedEx, DHL and Canada Post
Set up your own Automation Rules and Shipping Presets
Print shipping labels in triple-digit batches or individually
Dropshipping
Truly hands-off dropshipping.
Launch a dropshipping operation in a matter of clicks
Tag any product as drop shipped and assign it to a vendor
Choose between automated or manual routing
Activate a Vendor Portal between you and your supplier
Multichannel
We're your operations hub.
Integrate and view all of your sales and supplier channels in one spot
Use our open API to hook up any third-party or custom apps
Manage every aspect of your orders
Establish Supplier Feeds for real-time, back-end communication
Barcode Generation and Scanning
Raise the bar for stocking and packing.
Create UPC barcodes for your products
Scan, set, and search UPC codes for SKUs within Ordoro
Reduce fulfillment errors with our pack and pack barcode scanning workflow
Scan received POs to automatically adjust stock levels
Don't take our word for it
Our awesome customers have shipped some really great compliments our way:
"I spent about a month thoroughly searching for the right backend fulfillment software for my eCommerce business. There were definitely some big name guys out there that I considered, but at the end of the day, I went with Ordoro and I'm so glad I did!"

Tina Yarandi
Founder/CEO of Nature's Artisan
"Ordoro continues to add immensely valuable features to an already awesome sales/warehousing/shipping platform. Using Ordoro continues to save us time and money."

Anthony Krize,
VP of GE Holiday Lighting
USPS Shipping Method
There are a number of USPS shipping methods to choose from when looking for the best delivery times and rates.
USPS Retail Ground prices start at $8.50 (at the P.O.) with a shipping time of 2-8 days.
USPS First Class Envelope starts at $.58 (P.O. and online) with a USPS Retail Ground time ship and delivery of 1-5 days. Next-day delivery is comparable to UPS Overnight shipping cost varies with the size, weight, and delivery zone of a package.
The USPS First Class mail delivery time map, which is the same as the standard mail delivery time map, can be found on the USPS website or app.
Most standard mail (First Class) delivery times, depending from zip code to zip code, take about two to four days for delivery, barring weather or unforeseen circumstances. First Class domestic mail generally takes between two and three days to be delivered, whereas domestic mail sent through USPS Priority Mail takes a bit less time - usually one to three days. Again, this is subject to outside factors such as weather, season (holidays usually slow down deliveries), and the volume of mail sent.
USPS International shipping is also available, but as you might expect, it's fairly costly and generally must be coordinated with the mail and delivery services of the country where it's to be delivered. If you use the USPS International shipping calculator and you're just sending printed or flat documents, then you might want to consider USPS First Class Mail International, starting at $2.60, for documents in envelopes weighing under a pound.
Let Ordoro help with all of your ecommerce shipping and tracking needs as well as your incoming and outgoing inventory, including automating purchase orders, overseeing fulfillment, coordinating multi-channel sales and multiple carrier shipping rates, delivery times and tracking.
USPS Priority Mail
USPS Priority Mail will send any package weighing less than 70 pounds as well as being faster. First Class Mail takes a little longer, and the rates vary more than with Priority, as they're based on size, weight, and destination. Priority Mail Flat Rate for USPS Priority Mail envelopes are $6.95.
The USPS Priority Mail time map also shows the dates and times that a package or envelope can be expected to arrive at a destination, depending on the zip code it's sent from as well as that of the destination, and is found on USPS.com/priority-mail. Enter the zip/postal code and drag/zoom to see where the package is going as well as which territories and states receive Priority service.
USPS Priority Mail tracking is included in the prices, as is insurance. Enter the USPS tracking number either in the app or on the official USPS website.
USPS Priority Mail boxes and flat envelopes are available for customers using Priority Mail.
USPS Priority Mail international is one important feature of the USPS, which has a variety of international delivery services based on any of the following factors:
Speed of delivery
Postage cost
Flat Rate shipping options
Insurance and tracking
Which is better - USPS First Class vs Priority? Priority Mail is the USPS's class of mail that's their top priority to send out. Parcels are delivered faster than with First class and allow for heavier packages up to 70 lbs., making it a good choice for those needing faster delivery or if sending heavier packages. It's also a better choice for USPS international shipping times, cutting down significantly on shipping time, making the extra USPS Priority Mail cost usually worthwhile.
(First Class) USPS Retail Ground vs Priority Mail: Priority costs more but gives faster delivery for heavier items.
Determining the right carrier and rates can be confusing, especially when dealing with different carriers' charts, rates, and schedules. Ordoro takes the guesswork out of choosing the best rates and carriers for your shipments.
USPS Shipping Rates
A quick check online will show that USPS shipping rates compare favorably with UPS shipping rates and, in some cases, actually beat them.
A USPS shipping calculator and rate chart show the latest prices for postage rates 2021 and beyond, as well as postage rates by size.
The USPS flat rate is exactly that: you are charged a single rate when using a USPS Flat Rate, box regardless of destination. As long as the item fits in the box and weighs under 70 pounds (if using boxes) or 4 pounds (if using envelopes), you're good.
Commercial USPS Flat Rate prices are currently $6.95/ envelope, $7.50/small box, medium top-loading, or side loading box/$12.80.
To ensure that your parcel isn't over any weight or other limits, you can check USPS shipping rates by weight chart by going to USPS.com/business/prices, and clicking on Postage Rates and Prices.
International shipments will have a serious impact on shipping rates, because not only are they high-distance by nature, which means higher prices than domestic shipments, but they tend to include more additional charges, such as customs, than domestic services.
The USPS has international delivery services for just about every need. You can select which best fits your needs such as:
Postage cost
Flat Rate shipping options
Speed of delivery
Including insurance and tracking
While some international services are available online, others require going to a Post Office location. Priority Express International, costing upward from $47.95 is good for sending items that should arrive with date-certain guarantees depending on the location. Most UPS shipping rates international are competitive with rates for Priority USPS international. The USPS international shipping rates can be found on the USPS website or with an assortment of apps, including those of ecommerce management software leader Ordoro.
USPS Shipping Calculator
Using the USPS shipping calculator helps shippers figure out a time estimate for a customer's order to get the best rate and delivery schedule. Keep in mind that First Class is usually the most economical way to send envelopes and smaller lightweight packages if delivery time isn't critical.
To estimate using the USPS shipping calculator by weight (DIM weight), multiply the length, width, and height of the package or box, then divide with a standard DIM divisor.
Like other shipping carriers, such as the FedEx shipping calculator and UPS shipping calculator, the USPS calculates shipping charges based on whichever is greater: the DIM weight or the actual weight. The USPS's most common charges are based on distance and weight, as with First Class and Priority Express.
The USPS shipping calculator tool can tell you the estimated delivery time, as well as the cost to send a package, with the USPS shipping calculator by zip code. The USPS shipping rates calculator is found on the USPS .com website, under Mail and Shipping Services.
USPS delivery time calculator is a tool found on the USPS website having a "Service Commitment" (time frame) they are committed to fulfilling delivery of a package.
To figure out the USPS delivery time calculator First Class mail go to the USPS.com website and choose Ship/First Class, and click on First Class Mail Prices to compare the package size, weight, and destination as well as the estimated arrival.
The USPS shipping calculator eBay website using the Turbo Lister or Sell Your Item form shows costs based on zip code, eliminating accidentally overcharging or paying unexpected costs out of your own pocket.
USPS shipping calculator International usually shows the best shipping rates and faster delivery times through the USPS shipping calculator Priority Mail, as discussed previously.
Ordoro, a leader in ecommerce management software, offers apps and discounts that can make calculating shipping costs and choosing the best carrier a breeze.
USPS Tracking
With USPS Tracking package procedures, all packages include tracking, allowing you and the customer to keep tabs on the order as it makes its way to its destination.
USPS customer service quality is normally good but sometimes depends on when and where you go for help when dealing with local P.O. facilities. Doing business online with the USPS and arranging for pickup as well as delivery services is a smart option.
When you enter the USPS tracking number either in their app or on the USPS website, you can locate where the package is on its way to delivery. You can find this number on the mailing receipt from your Post Office, at the bottom of the peel-off part of the USPS tracking label, the shipping confirmation email you received from an online retailer, your sales receipt if you purchased insurance at the Post Office, or your email confirmation if you shipped through USPS.com.
The FedEx tracking number is found on the shipping label, as with USPS, UPS tracking, and most other carriers. It's included in the shipping charges as well.
Priority Mail tracking is included in the prices, as is insurance. Priority mail tracking can quickly be performed by entering the tracking number either in their app or on the USPS website. You can find this number on the mailing receipt from your Post Office, the bottom peel-off part of the tracking label, the shipping confirmation email you received from an online retailer, your sales receipt if you purchased insurance at the Post Office, or your email confirmation if you shipped through USPS.com. This also works with USPS tracking international services.
For USPS package tracking go to the USPS website's tracking portion and follow the prompts above. USPS First Class mail tracking can also be accessed by signing up for tracking alerts, where you can manage deliveries and more through the USPS app or online dashboard.
Ordoro, a recognized ecommerce software leader, also helps you track packages during shipping as well as handle all aspects of ecommerce order fulfillment.