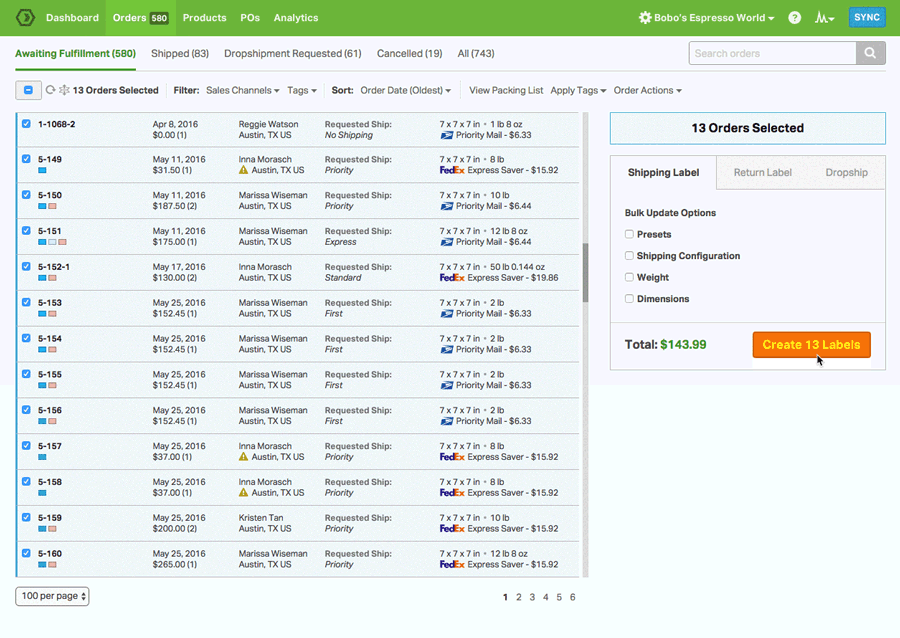 Learn More About Etsy Shipping Fees With Ordoro
The All-In-One Ecommerce Logistics Platform
Equip yourself with a comprehensive solution
Inventory Management
Stock, sync, and scan.
Automatically track and sync your inventory levels
Create and send out Purchase Orders when it's time to restock
Bundle multiple SKUs into one unit for sale
Use Barcode Scanning to reduce fulfillment errors
Multi-Carrier Shipping
Your workflow, minus the work.
Enjoy heavily-discounted shipping rates via USPS
Ship via any of our integrated shipping carriers like USPS, UPS, FedEx, DHL and Canada Post
Set up your own Automation Rules and Shipping Presets
Print shipping labels in triple-digit batches or individually
Dropshipping
Truly hands-off dropshipping.
Launch a dropshipping operation in a matter of clicks
Tag any product as drop shipped and assign it to a vendor
Choose between automated or manual routing
Activate a Vendor Portal between you and your supplier
Multichannel
We're your operations hub.
Integrate and view all of your sales and supplier channels in one spot
Use our open API to hook up any third-party or custom apps
Manage every aspect of your orders
Establish Supplier Feeds for real-time, back-end communication
Barcode Generation and Scanning
Raise the bar for stocking and packing.
Create UPC barcodes for your products
Scan, set, and search UPC codes for SKUs within Ordoro
Reduce fulfillment errors with our pack and pack barcode scanning workflow
Scan received POs to automatically adjust stock levels
Don't take our word for it
Our awesome customers have shipped some really great compliments our way:
"I spent about a month thoroughly searching for the right backend fulfillment software for my eCommerce business. There were definitely some big name guys out there that I considered, but at the end of the day, I went with Ordoro and I'm so glad I did!"

Tina Yarandi
Founder/CEO of Nature's Artisan
"Ordoro continues to add immensely valuable features to an already awesome sales/warehousing/shipping platform. Using Ordoro continues to save us time and money."

Anthony Krize,
VP of GE Holiday Lighting
Etsy Shipping Fees
As an online marketplace, "Etsy has increased revenue and usage every year since its IPO in 2010, but the coronavirus pandemic supercharged its growth, from $818 million revenue in 2019 to $1.72 billion in 2020. Etsy also doubled active buyers in that time period." To be a part of this massive online platform selling arts and crafts and supplies to make more artisan wares, is simple. Once your Etsy shop is open for free, you will need to look at expenses. This includes Etsy shipping fees, which are a necessary part of shipping any products to customers.
Etsy shipping fees are set up according to various calculators and cost controls. According to the Etsy fee 2022 charts, certain shipping charges cannot be avoided and were increased this year due to a rise in shipping demand. These Etsy shipping fees include:
5 percent shipping fee
5 percent transaction fee
3 percent processing fee
Also, if you want to calculate the shipping costs for an individual shipment, the Etsy fee calculator 2022 by Ordoro is super helpful. The calculator determines the independent variables for Etsy payments. That allows you to have a good estimate of what you will have to pay. This allows your Etsy shop to charge customers the right amount in order to recoup shipping costs.
So exactly how much does Etsy charge for shipping products? In general, shipping fees are always expensive across the board for transporters. This stems from fuel surcharges and the constant fluctuation of shipping fees by freight and logistics providers. In other words, it's beyond Etsy's control and the blame falls on the transportation services that ship products. Etsy is not a shipper and does not have an in-house trucking fleet to manage shipping. As a result, you will be using third-party logistics (3PL) providers for your shipping needs. This is where the cost comes from, and where you want to go when trying to cut down costs per shipment.
Etsy Fees
Various fees associated with Etsy were increased quite dramatically, both in amount and the way the Etsy community of sellers reacted. Etsy fees 2022 according to The Daily Beast, went up 30 percent "from 5 percent to 6.5 percent from April 11." Sellers were so shocked at the way Etsy treated them with a sudden spike in Etsy fees that they retorted by going "on vacation" mode. Supposedly, this led sellers to close down their shops for a short while in a strike against Etsy. This is the first time sellers have been on strike at the popular platform.
These Etsy fees include:
Payment processing fees, which vary by country of origin
Transaction fees at 6.5 percent of the total purchase amount
Listing fees at a flat rate of 20 cents per listing
Sellers were questioning are Etsy fees worth it and whether they were able to make enough money on the platform. As a result of shipping fees, sellers were comparing the use of their Etsy shop with other platforms like eBay. Turns out Etsy is the most popular place for the arts and crafts industry, particularly since the coronavirus.
With so many people actively working from home during the pandemic and subsequent shutdown, it's little surprise that Etsy boomed in popularity. Both with people doing online shopping and with those customers who became sellers in order to pay for the ability to do so, the platform boomed.
As a result, the Etsy fees Reddit feed has become a mainstay as sellers try to find out what to do next. It is difficult for most when they do not understand how to see Etsy fees. "I don't understand Etsy fees" is often the question we hear at Ordoro, too. The issue remains that Etsy controls their shipping and processing fees, and if you are using that platform, you are going to have to pay those fees.
Etsy Shipping Rates 2022
Staying on budget as a business owner is easier when you have access to tools that keep your expenses on track. Take the Etsy shipping services. Along with providing a platform for online shops and sellers, Etsy has an internal shipping department. If you choose to buy shipping labels through Etsy, you can save money on delivery services. These shipping labels are available only to Etsy customers and are available through Etsy Payments.
To find out how much this service costs, take into account the latest information about Etsy shipping rates 2022. Due to the increase in Etsy fees, you can expect to pay more for shipping using Etsy compared to years in the past. However, Etsy sellers get discounts when using in-house shipping labels. As a result, you stand to offset the costs of shipping even with the latest Etsy fee increase. You might still come out ahead, which is why you want to learn more about Etsy shipping rates vs USPS. For example, if you are shipping with the USPS, there may not be a discounted rate like you can receive with Etsy.
As for Etsy 2022, shipping costs are expected to increase based on the previous spike in sales volume and users on Etsy. Finding out how much Etsy shipping labels cost for your company is another way to see if this is a way to save money. Start by using Ordoro's free Etsy shipping cost calculator. We also have services to help Etsy sellers print shipping labels and save money, too. Whether you want to avoid cost-prohibitive USPS shipping rates or go another route, Ordoro has you covered with a bevy of service options.
Etsy Fees Calculator
Find out how much money you can save when using Ordoro's Etsy fees calculator. Our calculator is a tool that is set up to include all of the expenses and services associated with shipping products from Etsy. Once you determine the cost of a shipment, you are one step closer to making the right choice for your business. Figure out if you are going to save money using an Etsy shipping calculator for international shipments. Also, see if you should buy postage from the USPS for domestic shipments or from another label provider, like Ordoro.
We have the tools to show you exactly how much do Etsy shipping labels cost for your business. Using our Etsy fees calculator 2022 which is part of our total software and shipping management solution, you can save a ton of money. Set up your Etsy shop for dropshipping and other automated services using Ordoro's other tools. Our software includes the Etsy fee calculator Excel spreadsheet for those office managers who prefer this type of inventory management solution. You can track your orders from the Etsy shopping cart all the way to the warehouse, and then to the customer's doorstep. It all starts with our Etsy fee calculator US 2022 at Ordoro.
How To Ship On Etsy For Cheap
Now you are ready for the next step. Ordoro is ready to assist Etsy sellers with how to ship on Etsy for cheap. After all, if customers are leaving shopping carts full due to high shipping costs, you are not going to make any money. The goal is to get those full shopping carts paid for and the goods shipped out of the warehouse–stat! Find out what Ordoro can do about the Etsy shipping cost Reddit users.
With our services, you also gain invaluable tips to reduce shipping costs on future orders and shipments. The Marketing Artfully crew is also ready to show you how to save on Etsy fees. Start by considering whether you should charge for shipping at all. You might know this already, but according to Etsy, "Shoppers on Etsy are 20 percent more likely to complete their purchase when the item is marked as shipping for free." That makes for one in five shoppers who would more likely buy your products if there are no shipping costs added.
Keep in mind, that you do still have to pay for shipping as a business owner. You surely know that the USPS or other shipping services will not cover your shipments without postage due. Also, the more weight you have in a package, the higher the cost of that shipment. Etsy also recommends including a $35 minimum order for free shipping, as this is the go-to standard limit for the company at large. By doing so, you can ensure all shipments totaling $35 or more will come with free shipping automatically.
This serves to psychologically provide an incentive to spend more money–just for the sake of free shipping. Sure, you are going to spend more money with this rule as a customer. For example, if your shipment was totalling $26 and you have to spend $9 more just to get free shipping, you are paying for the price of shipping in some instances–to receive shipping for no added cost. Customers see this and think, "I might as well stack up my purchases and get more goods instead of spending more just on shipping," and you win as a business owner. By the way, this is what Amazon does, too, if you are not a Prime member.
However, as a business owner, selling more products and still having to cover shipping costs might not work for your bottom line. If you figure out that you are dipping below your target profit margin, you might see that using a service like Ordoro for Etsy shipping fees is a better choice. Find out how Ordoro can improve your financial success at Etsy with a free 15-day trial of our software for your Etsy shop.