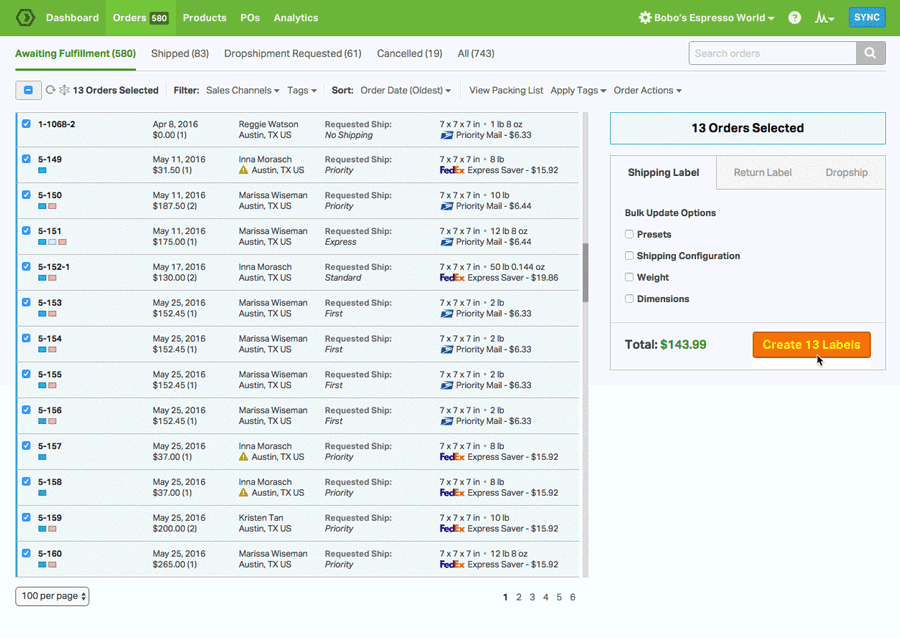 Why Is Etsy Shipping So Expensive? Your Questions Answered
The All-In-One Ecommerce Logistics Platform
Equip yourself with a comprehensive solution
Inventory Management
Stock, sync, and scan.
Automatically track and sync your inventory levels
Create and send out Purchase Orders when it's time to restock
Bundle multiple SKUs into one unit for sale
Use Barcode Scanning to reduce fulfillment errors
Multi-Carrier Shipping
Your workflow, minus the work.
Enjoy heavily-discounted shipping rates via USPS
Ship via any of our integrated shipping carriers like USPS, UPS, FedEx, DHL and Canada Post
Set up your own Automation Rules and Shipping Presets
Print shipping labels in triple-digit batches or individually
Dropshipping
Truly hands-off dropshipping.
Launch a dropshipping operation in a matter of clicks
Tag any product as drop shipped and assign it to a vendor
Choose between automated or manual routing
Activate a Vendor Portal between you and your supplier
Multichannel
We're your operations hub.
Integrate and view all of your sales and supplier channels in one spot
Use our open API to hook up any third-party or custom apps
Manage every aspect of your orders
Establish Supplier Feeds for real-time, back-end communication
Barcode Generation and Scanning
Raise the bar for stocking and packing.
Create UPC barcodes for your products
Scan, set, and search UPC codes for SKUs within Ordoro
Reduce fulfillment errors with our pack and pack barcode scanning workflow
Scan received POs to automatically adjust stock levels
Don't take our word for it
Our awesome customers have shipped some really great compliments our way:
"I spent about a month thoroughly searching for the right backend fulfillment software for my eCommerce business. There were definitely some big name guys out there that I considered, but at the end of the day, I went with Ordoro and I'm so glad I did!"

Tina Yarandi
Founder/CEO of Nature's Artisan
"Ordoro continues to add immensely valuable features to an already awesome sales/warehousing/shipping platform. Using Ordoro continues to save us time and money."

Anthony Krize,
VP of GE Holiday Lighting
Why is Etsy Shipping So Expensive
Due to an increase in fees as well as overall global hikes in shipping costs, buyers and sellers alike are sometimes left wondering why is Etsy shipping so expensive. Compared to other platforms, why is Etsy shipping so expensive Reddit users may ask. Actually, according to at least one Reddit user, in some cases, using Etsy can sometimes be cheaper than the post office.
Etsy shipping calculator figures the cost of sending a package and offers a discount to USPS.
An Etsy free shipping calculator is offered by Etsy on their Shipping pages that lets users know how much a USPS label costs when weight and dimensions are entered.
Some Etsy sellers, according to why is Etsy so expensive Reddit reviews, have turned to a new TikTok app to filter out online chronic complainers and returners using unfounded complaints and reviews about orders to get free items of undeserved refunds. – and whose actions are helping drive up the prices of Etsy goods. The app permits sellers to screen out potentially troublesome buyers with a history of unfounded complaints and returns ahead of time and decide whether to do business with them or not.
Gas, transportation, and other variables have all had a profound effect on shipping and logistics, and this affects Etsy artisans and makers, as costs for their supplies and materials are rising along with everything else. Most Etsy shops are smaller, individually-owned businesses, so owners can charge what they believe best compensates them for materials, labor, and time.
Etsy sellers can counteract higher shipping by using an Etsy coupon code that enables sellers to give discounts to buyers by entering the code at checkout is one way to incentivize buyers to purchase and offset shipping prices.
An increasing number of higher-volume sellers on Etsy are offering free shipping Etsy-based rates as long as sales justify absorbing any charges.
Regarding Etsy shipping cost Reddit complaints, both sellers and buyers are critical of recent fee hikes that help drive up the costs of using the platform.
There are a number of reasons why is Etsy shipping so expensive – fee increases are based on the corporate decisions of Etsy itself, and not the whims of the individual sellers, as well as outside influences such as higher overall shipping and transportation costs for anyone doing the shipping. Also, Etsy often doesn't combine purchasing from a few different sellers – meaning that customers may experience problems trying to fill a shopping cart to qualify for free shipping.
Due to Etsy's new policy of allowing mass-produced items, artisans are now compelled to raise their prices to underscore that handmade is of better quality.
Who pays for shipping on Etsy? Generally, according to the Etsy shipping profile, it's passed on to buyers, as is the case with most ecommerce sites. Etsy shipping fees, added to the price of the products, are part of the cost of doing business with Etsy, so it will help to understand up front what you can expect to pay. Shipping fees are normally around 5% of the listed shipping costs for an item.
Etsy shipping time needs to be flexible to accommodate those customers needing orders as fast as possible, such as sending orders overnight, which will also result in higher Etsy shipping cost.
Etsy sellers who sign on with Ordoro will immediately see an improvement in shipping fees, especially when using the USPS, as Ordoro's discounts are superior to what Etsy currently offers.
Because Ordoro works well with all major carriers, you can select any USPS, UPS, FedEx, DHL International, Canada Post, or Amazon Seller Fulfilled Prime account, and utilize the various domestic and international shipping methods from each provider.
Why is Etsy International Shipping So Expensive
As to why is Etsy international shipping so expensive as well as why is US shipping so expensive and why is USPS international shipping so expensive, one needs only to look at the bigger picture of today's logistics and fuel price challenges, as well as the expense and difficulty in global supply chains to understand that pricier materials are contributing to higher prices on Etsy and everywhere else.
The Etsy international shipping calculator is useful for estimating shipping costs worldwide, although some discounts are only available to US and Canadian users.
The international calculator tells how much to charge for international shipping on Etsy as well as the best carrier and delivery time frame.
Many newer sellers on Etsy are women under financial pressure largely from the pandemic, including in less-affluent countries with resulting job losses, and who are pushed into selling their art or other products online.
Business owners from all backgrounds who are engaged in ecommerce should be interested in partnering with ecommerce leader Ordoro, where our experienced and talented team of support specialists can guide them through every phase of set-up, inventory management, and of course, shipping.
In fact, at the end of March, Ordoro launched our new entirely FREE Starter Plan - and it's perfect for new entrepreneurs!
Here's what's offered:
Up to 1,000 orders monthly
Available to 1 user
Highly discounted USPS rates
Integrated multi-carrier shipping
Quantity batch label printing
Complete order management
Below is testimony from a satisfied customer:
"Ordoro has been helping us sell on multiple ecommerce channels for a few years now, and we couldn't be more satisfied! All orders from Etsy, Amazon & Shopify come to one place to ship and track inventory. It makes everything easier." - from Sean Lowery, owner of United Tees
Etsy Shipping Rates 2022
Etsy shipping rates 2022 have been in effect since the start of the year, and have shown an increase, likely reflecting the challenges experienced by supply chains, carriers, gas prices, and more. Also, unlike some other sales platforms, Etsy doesn't allow buyers to combine items from different sellers to get shipping discounts.
A user-friendly Etsy shipping cost calculator is offered by Etsy on their Shipping pages, which lets users know how much a USPS label costs when weight and dimensions are entered. Note that with USPS shipping rates, items weighing under 16 oz. can be mailed First Class, however, anything above that needs to be sent by Priority Mail. Of course, prices will vary based on the ship-to location, size, and other factors.
There is more than one shipping option available, so as a seller you'll want one with shopping platform integration, which allows users to quickly compare options and costs. When calculating UPS, for example, you'll see a lot of different rate options, such as whether your order can be sent via envelope (with a lower rate) or whether it needs to be boxed (at a higher rate.) Delivery time frame, location, size, and so on also influence shipping costs.
When comparing Etsy shipping label rates vs Post Office, Etsy claims that you can save 30% on postage by using Etsy shipping labels. However, Ordoro offers up to 67% off USPS shipping rates. Other shipping carriers may be cheaper in your region than USPS. Etsy shipping labels do include tracking and a free pickup by your postal carrier.
Etsy shipping rates 2021, along with other Etsy updates 2021 replaced the 2020 rate tables. During and following the easing of the pandemic, increases in gas prices and other variables affecting transportation negatively affected shipping and logistics for all types of business.
Cheapest Way to Ship Etsy Items
Unfortunately for some makers, recent fee increases are making Etsy too expensive for sellers. Previously, it cost about 20 cents per item to list with another listing fee of 20 cents to renew. A listing is usually good for about four months. Fees are charged to sellers whether or not an item actually sells. If it does, then a 5% transaction fee, currently in place since 2018 after an increase of 1.5%), will be charged on the payment amount.
Although the company posted high earnings for 2021, critics claim that such dramatic fee increases may be unfair to longtime sellers who rely on Etsy sales for a substantial part of their income.
So, raising sellers' fees has contributed to why is Etsy so expensive, as sellers raise prices to cover the price hikes.
You may be wondering why is Etsy shipping so expensive. Along with the transaction fees, Etsy's rates for shipping and other services add up quickly. Many Etsy items are handmade, making them more expensive than commercially made mass-produced products, as handmade items tend to be of better quality than goods that are quickly and often carelessly made. Also, Etsy doesn't allow buyers to combine items from different sellers to get shipping discounts.
There's a better, cheaper way to ship Etsy items. Ordoro can help you with any and all of the issues above, starting with the desire to use your own shipping for your Etsy store as well as access discounted shipping rates.
Ordoro really is the cheapest way to ship Etsy items – here's why:
Shipping with Ordoro gives you much better discounts than USPS: discounted shipping rates up to 67% to help grow your margins.
You can easily mix and match your carriers since USPS and Ordoro seamlessly integrate with other shipping players, like DHL, FedEx, UPS, and Canada Post.
Ordoro is among the industry's top contenders in shipping and inventory management software, with its integrated apps and plugins for barcode scanning, interfacing with multiple carriers, multi-channel sales, tracking shipments, sending notifications, automatically reordering stock, connecting your warehouses throughout the country, unifying your inventory and shipping requirements in software and versatile apps developed for that purpose.