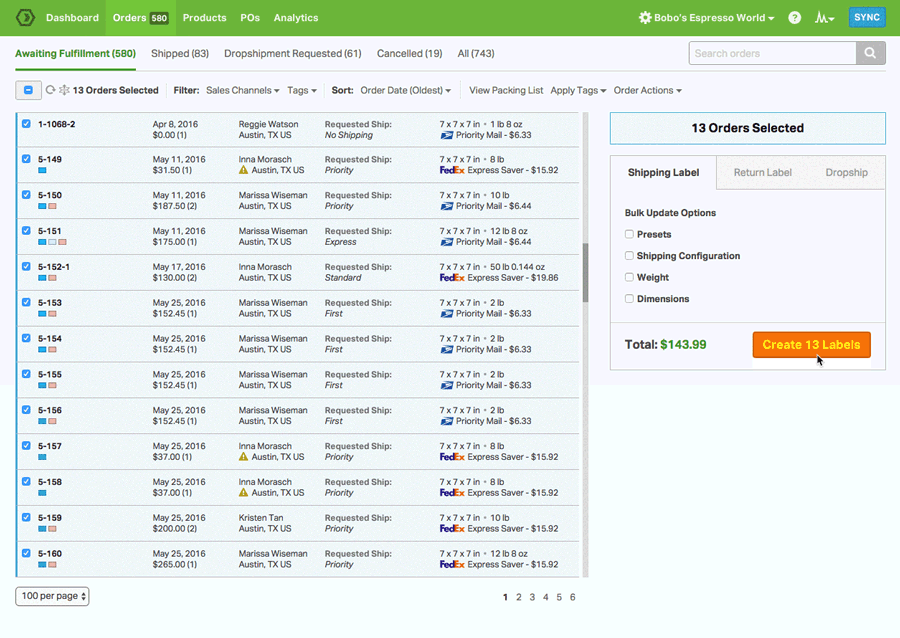 Discover Etsy Shipping Time And Procedures
The All-In-One Ecommerce Logistics Platform
Equip yourself with a comprehensive solution
Inventory Management
Stock, sync, and scan.
Automatically track and sync your inventory levels
Create and send out Purchase Orders when it's time to restock
Bundle multiple SKUs into one unit for sale
Use Barcode Scanning to reduce fulfillment errors
Multi-Carrier Shipping
Your workflow, minus the work.
Enjoy heavily-discounted shipping rates via USPS
Ship via any of our integrated shipping carriers like USPS, UPS, FedEx, DHL and Canada Post
Set up your own Automation Rules and Shipping Presets
Print shipping labels in triple-digit batches or individually
Dropshipping
Truly hands-off dropshipping.
Launch a dropshipping operation in a matter of clicks
Tag any product as drop shipped and assign it to a vendor
Choose between automated or manual routing
Activate a Vendor Portal between you and your supplier
Multichannel
We're your operations hub.
Integrate and view all of your sales and supplier channels in one spot
Use our open API to hook up any third-party or custom apps
Manage every aspect of your orders
Establish Supplier Feeds for real-time, back-end communication
Barcode Generation and Scanning
Raise the bar for stocking and packing.
Create UPC barcodes for your products
Scan, set, and search UPC codes for SKUs within Ordoro
Reduce fulfillment errors with our pack and pack barcode scanning workflow
Scan received POs to automatically adjust stock levels
Don't take our word for it
Our awesome customers have shipped some really great compliments our way:
"I spent about a month thoroughly searching for the right backend fulfillment software for my eCommerce business. There were definitely some big name guys out there that I considered, but at the end of the day, I went with Ordoro and I'm so glad I did!"

Tina Yarandi
Founder/CEO of Nature's Artisan
"Ordoro continues to add immensely valuable features to an already awesome sales/warehousing/shipping platform. Using Ordoro continues to save us time and money."

Anthony Krize,
VP of GE Holiday Lighting
Etsy Shipping Time
Etsy Shipping Time equals Order Processing time plus Carrier/ Transit time. Order processing time is the time it takes for the seller to prepare an order for shipping: packing, creating labels, and so on. Sellers are normally required to ship within 30 days of purchase unless special arrangements have been made with the buyer.
What's the usual Etsy shipping time for an order? Etsy does not ship orders – the Etsy sellers do. Packages are coming from all around the world, with different shipping times and requirements. According to their website, US buyers can normally expect their orders in 2- 6 days, although international orders may take 10 days or longer.
The estimated delivery means order processing time plus shipping time from the seller's location to the buyer. Etsy shipping time to US normally takes between 2 and 6 days, although this is subject to the carrier used, the to/ from locations, whether using regular or express shipping, and other factors. Private couriers tend to be a little faster but cost more.
An estimated delivery date meaning is the maximum time estimated for a package to arrive. Whether it is shown on an order page is up to the seller's shipping settings.
The Etsy shipping cost depends on the carrier seller chooses, as well as the size, weight and destination, and is included in the pricing.
An estimated delivery date UPS-specific can be provided by the seller if using UPS, just as with any other carrier.
How long do Etsy orders take to deliver? That depends on the seller's and buyer's location, processing time, the .carrier, shipping season, such as holidays, as well as the type of item: custom orders will take longer to create the item than if it's something already on hand ready to go.
Is Etsy Estimated Delivery Accurate
Is Etsy estimated delivery accurate? Usually, yes, assuming there are no other unexpected factors. Etsy is well aware that the closer a seller is to be accurate with anticipated delivery the more likely customers are to order again. It's simply good business. So, most of the time, barring unforeseen events, the estimated delivery date is usually accurate.
An Etsy delivery tracking number is provided by the seller's carrier used by the seller. The buyer can expect to receive an email with the tracking information once the order has shipped.
Etsy estimated shipping is based on an individual carrier's shipping policies and schedules. UPS will be on a different timetable than FedEx or the USPS whichever the seller chooses which carrier or courier best meets their needs and pricing.
You may wonder: how long does Etsy take to deliver to US? If shipped within the US, usually between two and six days. If coming from outside the US, it could take 10 days or a bit longer.
How long does Etsy take to ship, Reddit users have asked. Responses vary but normally domestic shipping (US) takes from two to six days. Most complaints are due more to issues with various carriers than with Etsy itself, as Etsy doesn't handle the shipping. It's merely the platform used by sellers to offer products for sale.
The seller usually lists the estimated time of departure in the listing but unless the item is being custom-made, items normally ship within 30 days from the date of purchase according to current Etsy policy.
Etsy sellers who team up with Ordoro will find it easier to not only offer accurate delivery estimates but can more easily ensure that they have selected the best carrier as well as access to comprehensive fulfillment and tracking capabilities.
Etsy Shipping to Europe
Is Etsy available in Europe? Yes, both within and outside the European Union (EU).
For Etsy "change shipping country" settings, sign in to your account, click on 'Listings", scroll to the "Shipping / Where I ship>Countries" sections, and enter your updates.
Etsy international shipping time depends on the carrier choice, such as USPS, Canada Post, Royal Mail and Australia Post and private couriers also such as FedEx or UPS (more on that below), as well as a country's shipping regulations, customs, taxes and so on. UPS international shipping rates vary as each country has different shipping regulations as previously mentioned, and often there will be customs to consider.
UPS rates international don't necessarily include customs, which are the fees, taxes or other duties charged on products shipped from one country to another. Customs rules vary according to country but regardless, UPS's online tools make an estimation of customs charges easier and more accurate.
With Etsy selling to Europe there are extra considerations such as customs, VAT (see below) and other regulations to be aware of before selling to Europe.
You can learn how to sell internationally on Etsy; among things to consider is the VAT (Value-added Tax) charged by many European countries on incoming shipments. Etsy shipping restrictions include the addition of the VAT, which is automatically collected from the buyer at the time of purchase and sent to local tax authorities on the seller's behalf.
Starting on July 1, 2021, Etsy began collecting VAT on physical items under €150 shipping to the EU from non-EU countries. Since VAT is fairly high, it will cut into profit margins for those outside the EU, unless those sellers raise prices higher to compensate, which could make it harder to compete with sellers within the EU.
Etsy shipping time to Europe depends on the carrier, customs, seasons, and related factors but under most circumstances, takes about 10-14 days.
For smart sellers Etsy shipping to Europe with Etsy Europe shipping rates as well as inventory and fulfillment tasks can all be managed more easily by working with Ordoro's software – as a leader in ecommerce management software, we can help take the guesswork out of choosing the right carrier at the best rates.
Estimated Delivery Time UPS
One of the reasons for the popularity of UPS shipping is the ease and speed with which most shippers are able to calculate an accurate estimated UPS shipping rate and time for all of their shipping methods, including accessing the UPS shipping rates by weight chart. Among the most commonly used domestic methods with current costs available are:
UPS Ground shipping time – also known as UPS standard shipping time - usually takes 2-5 days for most of the US, and is currently the most popular domestic shipping method. It generally takes longer than the other methods, but if your customer is not in a hurry, is much more cost-effective.
Next-Day Select – normally 1-3 days
2nd Day and 3-Day Select are in the middle with lower rates but also slower delivery times.
UPS Next Day Air Early – 1 business day overnight, arrive by 8 a.m
Finding an estimated delivery time UPS-based is easy with the UPS shipping calculator. You can also find the shipping zone and UPS delivery times by zip code, even if you can't access the shipping map directly.
One of the pluses of using UPS is the real-time UPS tracking system which accurately and immediately lets you know where your shipment is at all times. UPS shipping tracking is included in the price of shipping and enables users to track the delivery journey of one or more packages from the shipper to the customer's destination. A UPS logistics expert can analyze your supply chain and advise best methods.
Ordoro also offers software, plugins, and other tools to help businesses manage fulfillment and shipping tasks, including total integration with local and major carriers, including UPS. Ordoro is a participant in an exclusive program with UPS that gives our customers access to fast UPS onboarding while instantly obtaining optimal discounts.
Etsy Shipping Tracking
Etsy shipping tracking is part of the Etsy buying process, with tracking numbers assigned to shipments after payment and when the order is ready to be shipped, with the label created.
Is it true that when I order through Etsy my purchases and reviews are available for me to see online? When an Etsy shipping label is used, yes, as you will receive a tracking number that will be visible once the order is scanned by the carrier and entered into the system.
Can I track a shipment with Etsy no tracking number for my Etsy orders? While using a designated tracking number is the fastest and most accurate way of tracking a shipment, there are ways to get around not having access to a number. If you have a reference number associated with the shipment or a purchase order number, you might still be able to track the package. However, a US seller shipping to a US buyer may still need a number if the order is for at least $10, with digital items usually exempt.
To track Etsy order with the order number: if you used shipping labels purchased through Etsy, tracking is automatically included in the order when the order is completed and the label scanned by the carrier. Can I track my Etsy order as a guest as well as estimated delivery tracking? Yes, as long as there's a tracking number from Etsy or the carrier.
For Etsy tracking international orders, the complete tracking history for Global Postal Shipping labels is available only on Etsy.com for both buyers and sellers.
Ordoro helps sellers from all platforms, including Etsy, do a better job of tracking inventory, performing fulfillment tasks, and tracking shipments – everything a business needs to succeed. From start-up to a thriving ecommerce store, Ordoro offers dropshipping and inventory management, multi-channel integration, multi-carrier shipping, analytics, automation, FREE 30-day onboarding, and lifetime support.